Written by Holly Parkinson for Sub11 :

Yish Koh is no stranger to understanding finances, but as a new mum, she realises that our little ones are. And so, Kit was created.
Kit is a money app for kids that provides just-in-time, fun, bite-sized pieces of financial education and helps kids learn by doing, whether that's parents giving their kids pocket money, helping them set and track savings goals, or spending money using a reloadable card. The character 'Kit' is the fun black bouncing ball that prompts kids and nudges them towards positive financial behaviour.
The company was started in July 2021 out of a gap in the market for helping parents teach kids about their money, particularly in a cashless world. Managing director Yish Koh pitched the idea while she was working at Commonwealth Bank's venture scaling arm, x15ventures.
"We know that parents play the most important role when it comes to the money, behaviours and mindsets their kids have, yet, when we did a study, 42% of the parents we gave the OECD financial literacy test to failed it," Koh says.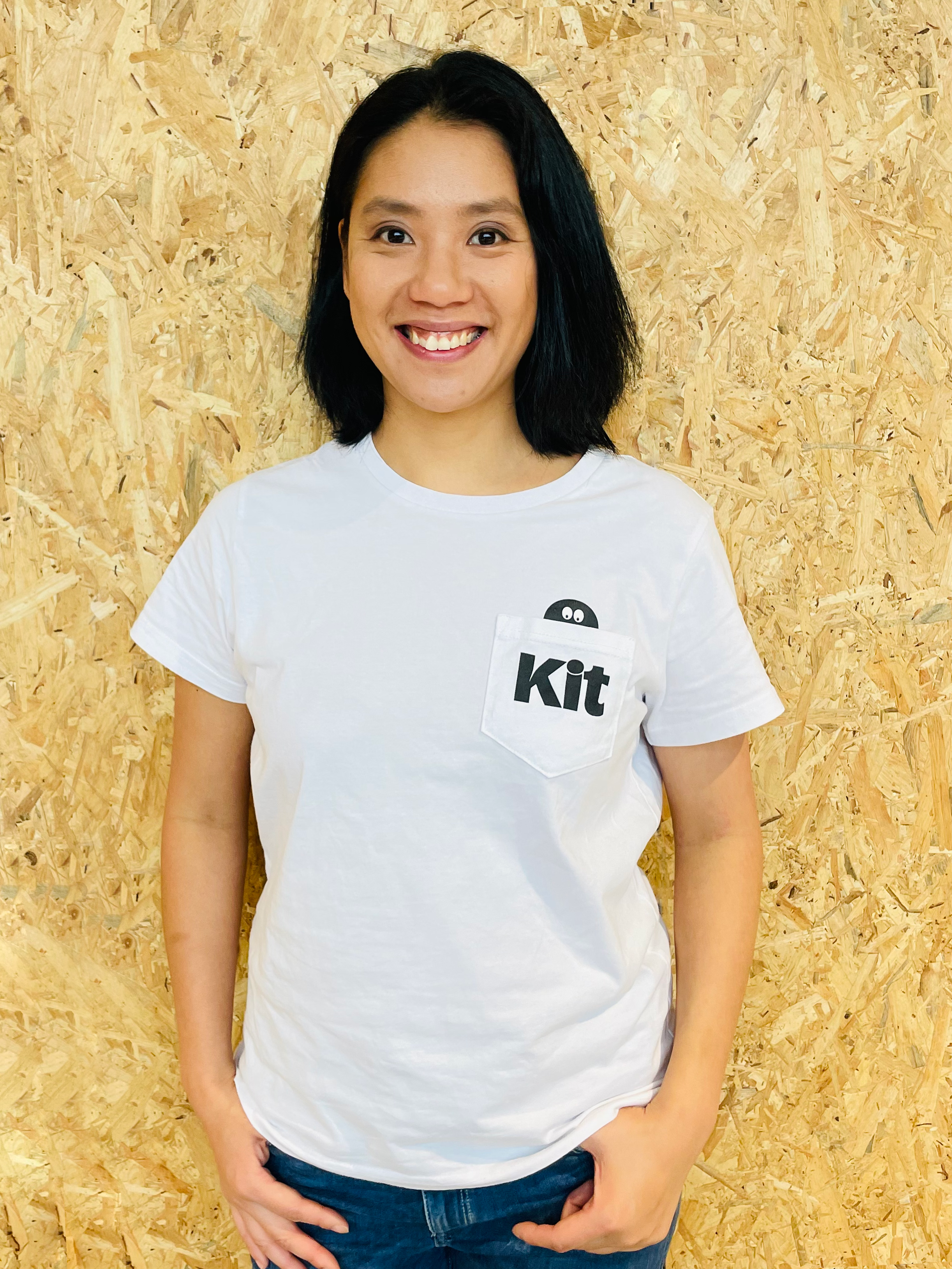 "There's also a huge taboo around money and whilst school and financial education are really important … it's not just about what they learn at school, it's about how they learn by doing and it's about how we support both kids and parents to do that."
With a background in management consulting and not-for-profit, Koh feels like this is an important and special development. She says she knew there was opportunity here to create a product that serves the needs of children and parents in a way that takes financial capability seriously.
"Being good at money is not just about the dollars that you have in your bank account, it's about your financial literacy, your understanding of different financial concepts and ability to interact with different financial products… it's the skills and the behaviour that you show, so for example, having enough money to cover everyday expenses, enough buffer so that if something goes wrong, the ability to plan for the future. But then also there's a mindset and attitudes piece, and all these things together give you that financial wellbeing equation.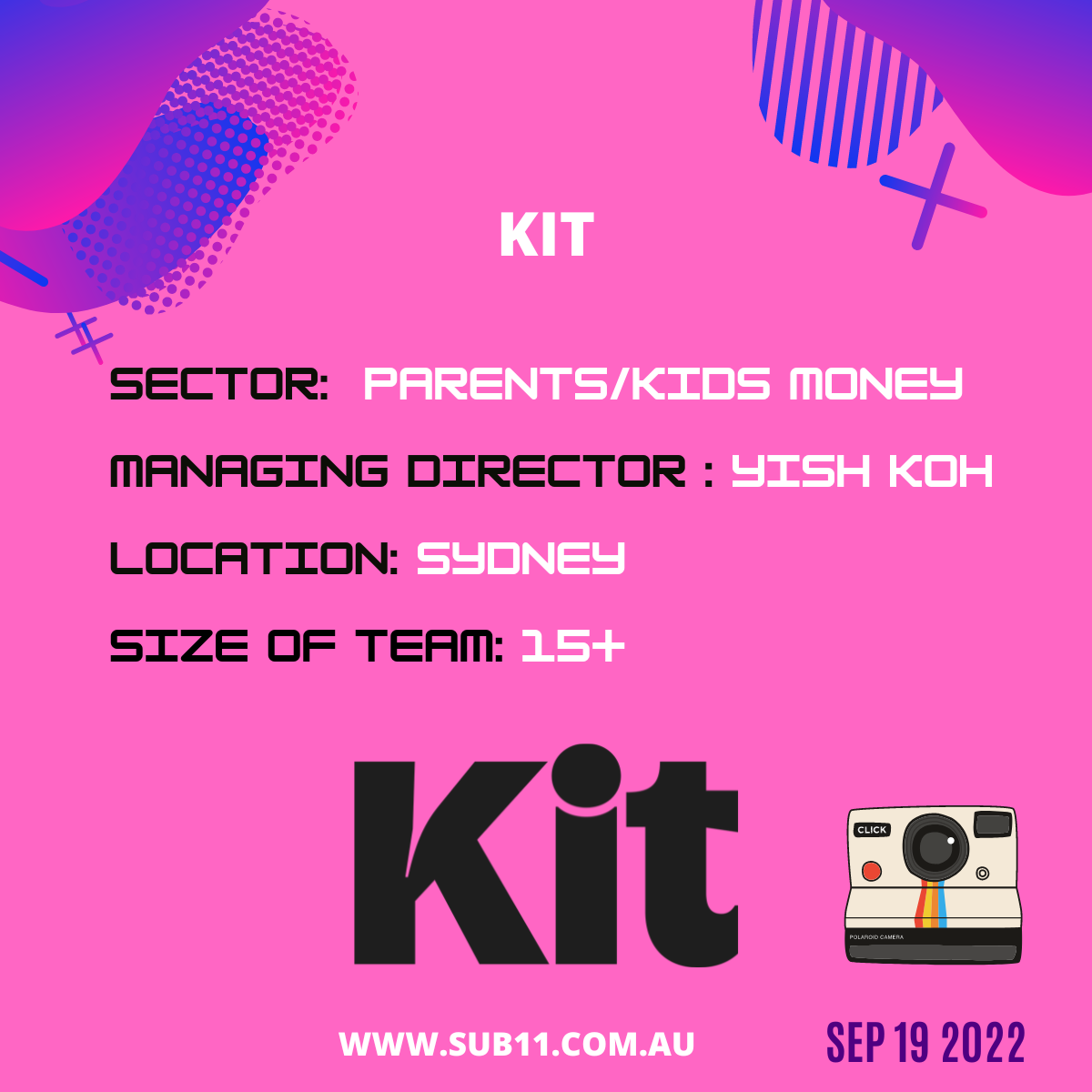 "We're educating kids but we're also educating parents at the same time, in some respects." For example, if a child doesn't set up a savings goal, the Kit character provides prompts, which lead to a story about why it's important to save. "Giving parents visibility … is also educating parents at the same time. A lot of people [think] 'I wish someone had taught me this when I was young' and for a lot of people that never happened."
So, is the app for kids or parents? Well, both. Existing products on the market tend to focus solely on parents, but Kit flips that on its head, offering a kid-focussed solution with parental controls and customisations.
"We've chosen to create a product that leans more heavily on kids but still gives parents that kind of customising, like the spend limits … to give them enough reassurance that the product is safe.
"One of the things that when you're a child growing up … you want to be an adult and you want to have autonomy and you want to have ownership, so we wanted to empower kids.
"We think that that way we can really engage kids in finances directly."
The parental controls include blocking 'adult' purchases, like gambling or the purchase of alcohol. At a per-parent level, there's also daily spend limits and the ability to block a certain merchant, as well as the ability to 'lock' and 'unlock' the card should it go missing, which can all be changed in real-time.
One of the functions of Kit is helping with pocket money, which Koh says absolutely still exists, even if it's not the same as it was a generation ago. A Kit-run survey in early 2022 found that 70% of parents are giving pocket money, and of those, 78% of the kids need to earn that money, through chores for example. However, the difference is that it's cashless.
"We're seeing that there's a combination now, with the rise of cashless, of both starting pocket money – which tends to be around the age of 7 or 8 – and then starting to get a debit card. Whereas a couple of years ago typically kids would only ever get a debit card when they were hitting high school.
"I'm a millennial parent. I am totally cashless, and so my son, when he gets to that age where he will need to go to primary school and pay for stuff, it is a massive inconvenience to me to have to go to the ATM and withdraw … just so that he can go and buy something."
"I think that's the trend, that parents are starting to get used to the idea that younger and younger their kids are going to start getting pocket money in a cashless way and be spending it with a card.
"When we've interviewed parents, [there's] even a level of nervousness because, in the past few years, getting a debit card would be seen a symbol of autonomy – which it definitely is… to be able to go out and tap and spend money – but [for] younger kids you need to put guardrails and safety around it to make sure that they're doing it in a way which doesn't give them uncontrolled access to funds."
Kit's hoping to hit phones soon – they launched an iOS app in May and are testing this with a beta group, as well as working on the Android app. Koh says the feedback is looking positive and, "it's just head down building from here."
Listen to the whole podcast with Yish Koh here.